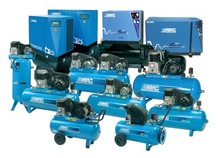 Compressed air made easy, even for the most demanding applications.
ABAC, whatever business you are in, is growing success together : discover today on our new abac.co.uk website how you can benefit from the new piston compressor ranges of ABAC UK.
The new ABAC UK piston portfolio offers you plenty of opportunities to maximize your market potential, based on an extended product portfolio, powerful add-ons and services for a successful sales journey to reach satisfied customers. Reliable and innovative products spread out over three different comfort levels generate an offer so varied, a perfect fit with the customers' needs is bound to be found.
Check out the new LINE, PRO and SILENT ranges, or go to the piston overview page.
Also, don't miss out on the ABAC screw compressor offer.
Whenever continuous air flow is needed, ABAC screw compressors are a safe investment . ABAC screw compressors are silent, 30% more efficient than piston compressors and offer you a much longer lifetime thanks to less vibration and fewer moving parts. Robustness and reliability are key with the new generation, providing you full peace of mind!
Our Products / Piston compressors offer / PRO / PRO Series
PRO Series
For advanced user-friendliness and maximum performance and comfort.
These ranges suit all possible professional applications, starting with direct driven compressors going up to two stage units with tankmounted dryers.
________________________________________
O20P - Oilless Direct Driven Compressor
Performant and oilless, the O20P range combines more power with more features.
L20P - L30P - Oil Lubricated Direct Driven Compressors
Professional and compact performance with extra user-friendly benefits.
Special Configurations of Oilless and Lubricated Direct Driven Compressors
More specific needs require more specific configurations.
V - High Performance Oil Lubricated Direct Driven Compressors
Most performant compressors in the direct driven portfolio.
A29B PRO - One Stage Belt Driven Compressors
The A29B PRO range offers more user friendliness and lower operating temperatures.
A39 PRO - One Stage Belt Driven Compressors
Reliable power and performance in combination with user friendly features.
PRO B4900-7000 - Two Stage Belt Driven Compressors
A double compression providing bigger flows and higher pressure.
PRO Slow Speed
Standard running 2 stage belt driven compressors running at lower speed.
Full Feature Open - Two Stage Compressors With Tankmounted Dryer
An all-in-one range of 4 to 10hp professional piston compressors.
Vertical PRO - One and Two Stage Belt Driven Compressors
Vertical air receiver compressors provide a space saving solution in the workshop.
PRO High Flow BV - Two Stage Belt Driven Compressors
High performance four cylinder V pump power.
PRO High Flow Tandem - Two Stage Twin Pump Belt Driven Compressors
Never without compressed air.
15 bar PRO - Two Stage High Pressure Belt Driven Compressors
Suitable for high pressure applications.
PRO Cast-iron
Top quality compressors with fully cast iron pumps, low noise and long lifetime for heavy duty applications
Baseplate Compressors - Two Stage Belt Driven Compressors Baseplate
Who we are
Since 1980, ABAC offers the right mix of flexibility and experience for the professional and DIY compressed air markets.
From state-of-the-art production facilities straight to your business via thousands of distributors in more than 100 countries worldwide, ABAC provides you with plug & play air solutions with a quality label. We deliver trouble free workmates, both piston as well as screw compressors, which are always available and ready to use. Join today thousands of convinced customers operating millions of ABAC compressors worldwide.
Adex International L.L.C is a sister concern company of Supreme industrial tools based in Dubai, Established in the year of 1998 to provide high quality products and services in UAE. We are pleased to introduce ourselves as a stockist and supplier of Industrial Tools, Machine Tools Accessories, Hand Tools, Compressors, Wood Working Tools, Engineering & Precision Tools, Carpentry Equipment, Aluminium Fabrication Equipment,safety and hygiene products in U.A.E. We at ADEX strive for excellence in every aspect we deal in by quoting the best price, ensuring the right goods get delivered on time to meet your needs and client satisfaction which is of paramount importance to us.
We deal in leading brands like MAKITA,MILWAUKEE ,AEG,STANLEY,IRWIN,HILTI,BOSCH,BLACK AND DECKER,MATADOR,ABAC,HELVI,BAHCO,OPTI BELT,OMCN,FLUKE,DORMER,BLICKLE,RODCRAFT, etc. any brand for that matter.
Looking forward to meeting you.
OUR PRIME SUPPLIER BRANDS/PRODUCTS FOR INDUSTRIAL TOOLS. GGA AIR COMPRESSOR, MAKITA POWER TOOLS,ELEMAX HONDA GENERATORS,SELTA HAND TOOLS,ABAC AIR COMPRESSORS,DEWALT POWERTOOLS ,ELCOMETER,FLUKE ,MEGGER,RODCRAFT PNEUMATIC TOOLS
www.adexuae.com
Suhail Ashraf
Bel Rasheed Twin Towers,
B 506, P.O Box: 127616,
Al Qusais 3, Dubai, UAE.
Phone +971 4 2558915
Fax +971 4 2630965
Mobile +971 564083305
Email ID: suhail.ashraf@adexuae.com
www.adexuae.com
Details
Place of Origin:
Product Condition: New
FOB Price:
Minimum Order Quantity:
Supply Ability: Ready Stock

Packaging & Delivery
Packaging Detail:
Delivery Detail: