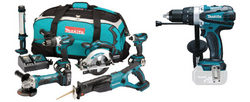 Makita is the most fast selling power tool in the UAE and have an excellent track record of supplying quality tools at a reasonable prices. Makita also have an extensive service network with authorised service centers well stocked in spares.
Adex International LLC is the authorized dealer for makita supplying Makita power tools all over UAE with branches in Dubai, Ajman, Sharjah, Ras Al khaimah. The company also exports to other GCC countries like Saudi Arabia,Oman,Bahrain and African countries like Nigeria,Lebanon,Egypt,Kenya ,Ghana,Burkina Faso. Adex also have clients in Azerbaijan,Kazakhstan,Armenia,Turkmenistan etc.
Adex International also have authorised service centers for repairs and servicing of Makita power tools and compressors.   
Details
Place of Origin:
Product Condition: New
FOB Price:
Minimum Order Quantity:
Supply Ability: Ready Stock

Packaging & Delivery
Packaging Detail:
Delivery Detail: