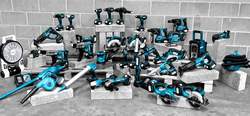 Makita Corporation is Japan's number one manufacturer and exporter of electric power tools. The company develops, manufactures, and distributes tools--more than 350 different products in all--in four areas. Makita's portable general purpose tools group, which accounted for more than 52 percent of 2003 revenues, encompasses drills, jackhammers, grinders, sanders, screwdrivers, and other construction equipment. The portable woodworking tools group includes saws, planers, routers, nailers, and other carpentry tools. It generated about 19 percent of sales in 2003. Stationary woodworking machines, including table saws, planer-joiners, and band saws, contributed just over 1 percent of sales. Though the company has traditionally targeted the professional user, Makita's distinctive turquoise tools increasingly appeal to the do-it-yourself market. Consumer tools include heavy-duty and household vacuums, chain saws, brush cutters, hedge trimmers, and blowers. These, along with industrial-use dust collectors and generators, made up around 11 percent of annual revenues. Makita's parts and repair services were another important business area, contributing more than 16 percent of revenues in 2003.
Having launched multinational operations in 1970, Makita boasted more than 100 sales offices and 39 overseas subsidiaries in the early 2000s, selling its products in more than 100 countries around the world. Although North America was its oldest market and generated 26 percent of sales in 2003, Makita's largest foreign market was Europe, constituting just under 33 percent of sales. Approximately 22 percent of revenues originated within Japan itself, while Southeast Asia contributed almost 8 percent. Aiming to make its products as close to its customers as possible, Makita manufactures its power tools and other products at plants in Japan, Brazil, Canada, China, Germany, the United Kingdom, and the United States.
20th-Century Foundation and Development
The company traces its history to 1915 and the establishment of Makita Electric Works, a repair shop for electric tools and equipment in Nagoya, Japan, midway between Tokyo and Osaka. It was incorporated in 1938 as Makita Electric Works, Ltd. In April 1945, near the end of World War II, the plant was relocated to Sumiyoshi-cho in nearby Anjo City in an attempt to avoid damage from air raids. The company has been located in Anjo ever since.
But it was not until 1958 and the administration of President Juiro Goto that the company diversified into the manufacture of electric power tools. In January of that year, Makita began selling portable electric planers, the first such product in Japan. A 1962 public stock offering raised funds for the diversification program. By 1969--just over a decade later--Makita had leapfrogged to the top of the Japanese power tool market. The company credited its success in the domestic power tool market to high quality construction, pioneering research and development, and a unique system of direct distribution. Instead of relying on wholesalers to market its tools to retailers, Makita employed its own direct sales force. The close relationships engendered by this system gave the company insights into the needs of retailers as well as the end user, thereby fueling innovation.
With their brushed metal casings, the company's earliest tools looked bulky, heavy, and primitive by today's standards. Over the years, Makita traded metal casings for shock-resistant, turquoise plastic; added multi-speed motors and electronic controls; and developed a mind-numbing variety of accessories. Makita targeted professional tool users in the carpentry, construction, timber, and masonry trades with its powerful, durable equipment that often cost two to three times as much as a typical tool made for the consumer market. Focusing on the high end of the power tool industry mitigated price competition, thereby boosting profit margins substantially.
Overseas Expansion Beginning in 1970s
Realizing the limitations of the domestic market, Goto sought global expansion in the 1970s. Stock offerings in 1968 and 1970 generated a "war chest" that financed Makita's overseas campaign. The company employed a multinationalist strategy, establishing a new subsidiary in each target market. Makita set up a foothold in the United States first, in 1970. Within just four years, the company had operations in France, the United Kingdom, Australia, Canada, the Netherlands, and Italy. The late 1970s and early 1980s witnessed the creation of subsidiaries in Germany, Belgium, Brazil, Austria, and Singapore.
Makita used its comparatively low-cost production base to advantage in Europe and the United States. By the end of the 1970s, the company had captured almost one-fifth of the global professional tool market, nearly matching Black & Decker Corporation's market share. As an unidentified analyst told Fortune's Bill Sapirito in 1984, "Basically, Makita had them by the you-know-whats and just said, 'Cough.'"
By this time, competition between Makita and U.S. industry leader Black & Decker had saturated that country's market for power tools to the point that sales growth appeared limited to replacements, parts, and trade-ups. In fact, manufacturer's sales slid 16 percent from 1980 to 1983. Fortunately, the development of cordless rechargeable power tools established a whole new avenue of growth. After ten years of research and development, Makita launched its first cordless tool, a drill, in 1978. Eliminating the cord freed the worker from the power source, but early cordless models had several limitations. They were often heavier and less powerful than their corded forebears, had very limited running time, and required long periods to recharge. Though these factors kept cordless tools out of many professionals' tool chests, they did appeal to the home handyman whose projects were less demanding. Improvements in battery technology throughout the late 20th century boosted power and running time while reducing recharging time. By the late 1980s, Makita's 9.6-volt family of cordless tools was beginning to find their way onto construction sites.
Adex International L.L.C is a sister concern company of Supreme industrial tools based in Dubai, Established in the year of 1998 to provide high quality products and services in UAE. We are pleased to introduce ourselves as a stockist and supplier of Industrial Tools, Machine Tools Accessories, Hand Tools, Compressors, Wood Working Tools, Engineering & Precision Tools, Carpentry Equipment, Aluminium Fabrication Equipment,safety and hygiene products in U.A.E. We at ADEX strive for excellence in every aspect we deal in by quoting the best price, ensuring the right goods get delivered on time to meet your needs and client satisfaction which is of paramount importance to us.
ADEX INTERNATIONAL LLC primarily focus on export of Industrial tools,air compressors and generators to GCC countries like Saudi Arabia,Oman,Kuwait,Bahrain,Qatar and also African countries like Eygpt,Lebanon,Sudan and Russian countries like Azerbaijan,Uzbekistan etc.
We deal in leading brands like MAKITA,MILWAUKEE ,AEG,STANLEY,IRWIN,HILTI,BOSCH,BLACK AND DECKER,MATADOR,ABAC,HELVI,BAHCO,OPTI BELT,OMCN,FLUKE,DORMER,BLICKLE,RODCRAFT, etc. any brand for that matter.
Looking forward to meeting you.
OUR PRIME SUPPLIER BRANDS/PRODUCTS FOR INDUSTRIAL TOOLS. GGA AIR COMPRESSOR, MAKITA POWER TOOLS,ELEMAX HONDA GENERATORS,FLEX POWERTOOLS ,SELTA HAND TOOLS,ABAC AIR COMPRESSORS,DEWALT POWERTOOLS ,ELCOMETER,FLUKE ,MEGGER,RODCRAFT PNEUMATIC TOOLS,STRONGHOLD TROLLEY JACKS,STRONGHOLD ENGINE CRANES ,SOYER STUD WELDING MACHINE ,BTH STUD WELDING MACHINE ,GENIE LIFTS AND GENIE MOBILE WORK PLATFORMS
www.adexuae.com
ADEX INTERNATIONAL LLC
QUSAIS DUBAI
PHONE 042558915
SUHAIL 0564083305
suhail.ashraf@adexuae.com
AZEEM 0555775434
azeem.sha@adexuae.com
Details
Place of Origin: JAPAN
Product Condition: New
FOB Price:
Minimum Order Quantity:
Supply Ability: Ready Stock

Packaging & Delivery
Packaging Detail:
Delivery Detail: