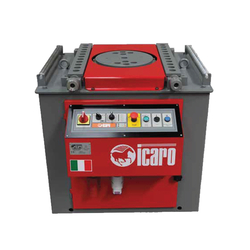 Icaro bar benders represent an evolution in the field of iron processing; they are conceived to guarantee high productivity as well as long durability.
They are equipped with long carts that allow for four different working positions. The powerful reduction gear is lubricated in grease bath and all internal components are made of special heat-treated steel. Additionally, all our machines have an electrical self breaking motor as well as a tight, low-voltage electrical wiring.
Only superior quality electrical and mechanical components are chosen for installation on our machines.
Moreover, our machines all come with a wide range of pins and bushes, on top of a brand new electrical panel that can be programmed for 5 different kinds of bending, guaranteeing safety and speed during simultaneous bending operations.
Each bender is fitted with our extremely innovative technology for Bluetooth diagnostics, that will let you check the conditions of your machine at every moment.
Details
Place of Origin: ITALY
Product Condition: New
FOB Price:
Minimum Order Quantity:
Supply Ability: Ready Stock

Packaging & Delivery
Packaging Detail: <span style="color: rgb(86, 97, 105); font-family: helvetica, arial, sans-serif; font-size: 13.3333px; background-color: rgb(255, 255, 255);">Icaro bar benders represent an evolution in the field of iron processing; they are conceived to guarantee high productivity as well as long durability.</span><br style="color: rgb(86, 97, 105); font-family: helvetica, arial, sans-serif; font-size: 13.3333px; background-color: rgb(255, 255, 255);"><span style="color: rgb(86, 97, 105); font-family: helvetica, arial, sans-serif; font-size: 13.3333px; background-color: rgb(255, 255, 255);">They are equipped with long carts that allow for four different working positions. The powerful &nbsp;reduction gear is lubricated in grease bath and all internal components are made of special heat-treated steel. Additionally, all our machines have an electri
Delivery Detail: <span style="color: rgb(86, 97, 105); font-family: helvetica, arial, sans-serif; font-size: 13.3333px; background-color: rgb(255, 255, 255);">Icaro bar benders represent an evolution in the field of iron processing; they are conceived to guarantee high productivity as well as long durability.</span><br style="color: rgb(86, 97, 105); font-family: helvetica, arial, sans-serif; font-size: 13.3333px; background-color: rgb(255, 255, 255);"><span style="color: rgb(86, 97, 105); font-family: helvetica, arial, sans-serif; font-size: 13.3333px; background-color: rgb(255, 255, 255);">They are equipped with long carts that allow for four different working positions. The powerful &nbsp;reduction gear is lubricated in grease bath and all internal components are made of special heat-treated steel. Additionally, all our machines have an electri