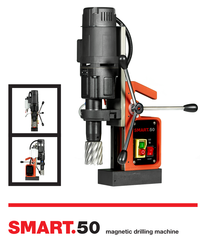 Magnetic drilling machines SMART series are for professional users who do not want to compromise on quality and performance but  can function with simple and convenient tools without additional features. Machines have proven themselves to be excellent value for money and perfect maintainability in many countries around the world. SMART series machines are under 12months manufacturers warranty (please  read and understand the warranty page in manual ) .
 Adex International is the premier suppliers of SMART Magnetic drilling machines in the UAE region with branches in Dubai, Sharjah, Ajman, Abu Dhabi , Ras Al khaimah and Umm Al Quwain. 
Adex International has an export trading division supplying to the MENA [Middle east and North Africa] like Saudi Arabia, Oman, Yemen, Bahrain, Kuwait, Qatar, Azerbaijan, Egypt, Lebanon etc 
SMART  Netherland specializes in magnetic drilling machines with an extensive range of magnetic drilling from 13 mm to 100 mm diameter holes. SMART annular cutters and Hole saws are made with the best quality
 Smart.50  magnetic drilling machine, up to 50mm
SMART.50 magnetic core drilling machine has a powerful 1200 W motor and 2-speed manual gearbox.
Perfect for drilling holes in steel and similar metals on the job site or in the shop.
Strong and powerful machine for economical price.
Tech data
Annular cutting                             Ø 12 - 50 mm
Twist drilling (Weldon)                Ø 1 -   20 mm
Countersinking                               Ø 10 - 50 mm
Length  320 mm
Width       210 mm
Height     385 - 550 mm
Stroke  170 mm
Weight machine  13,5 kg
Magnet (l x w x h)            168 x 84 x 49 mm
Magnetic force                1,600 kg
Motor power                 1200 W
Total power                      1250 W
Speed (no load)                1st - 380 rpm / 2d - 690 rpm
Speed (loaded)               1st - 235 rpm / 2d - 425 rpm
Spindle (Weldon)            19.05 mm direct
Voltage                                220 - 240 V / 50 Hz
Features and content of the case :
-drilling machine
-transportation case
-cutter oil-lubricating system
-safety chain
-guard shield of cutter zone
-keys
-instruction manual with warranty page
Details
Place of Origin:
Product Condition: New
FOB Price:
Minimum Order Quantity: 1
Supply Ability: Ready Stock

Packaging & Delivery
Packaging Detail:
Delivery Detail: