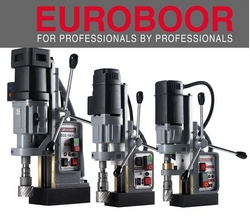 Adex International is the premier suppliers of magnetic drilling machines in the UAE region with branches in Dubai, Sharjah, Ajman, Abu dhabi , Ras Al khaimah and UmmAl Quwain. 
Euroboor is a well reputed company situated in Netherland specializing in magnetic drilling machines.They have an extensive range of magnetic drilling from 13 mm to 100 mm diameter holes. Euroboor also have a pneumatic magnetic drill suitable for use in the oil and gas industry and a battery operated model for mobility and working in remote areas.
Euroboor stocks all the sizes of annular cutters and accessories .
magnetic drill uae
magnetic drill press 
magnetic drill cutter
magnetic annular cutter
magnetic drill machine dubai
Euroboor middle east
Euroboor sharjah
Euroboor Eco 30
Euroboor Eco 32
Euroboor Eco 50
Euroboor Eco 80
Euroboor Eco 100/4
Euroboor Air 52
Euroboor EBM 360
Details
Place of Origin:
Product Condition: New
FOB Price:
Minimum Order Quantity:
Supply Ability: Ready Stock

Packaging & Delivery
Packaging Detail:
Delivery Detail: