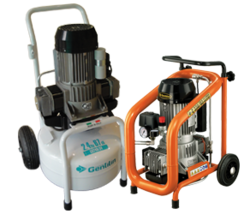 Gentilin is specialized in the manufacturing, development and distribution of compressed air tools mainly oil free air compressors and dental air compressor. The company established in the 1970s  has decades of experience in the production of oil-free air compressors. The products are extensively tested to meet the most vigorous industrial use before selling them to the customers .
 Gentilin can be proud of the ever enthusiastic team of technical, logistical and product support specialists capable of assisting you in selecting the product based on your requirements.
ADEX INTERNATIONAL LLC is the specialist supplier for Dental air compressor and oil free air compressor in the UAE with operations in Dubai, Abu Dhabi, Alain, Umm Al Quwain, Ras Al Khaimah ,Fujairah . Adex also have a healthy stock of oil free air compressor and dental air compressor and can supply to anywhere in the world. Adex also have an export wing supplying to the GCC and MENA region to countries like Saudi Arabia, Oman, Qatar, Kuwait, Azerbaijan, Sudan, Somalia etc.
OIL FREE AIR COMPRESSOR SUPPLIER UAE
DENTAL AIR COMPRESSOR SUPPLIER UAE
DENTAL AIR COMPRESSOR
OIL LESS AIR COMPRESSOR
OIL FREE AIR COMPRESSOR
Details
Place of Origin: ITALY
Product Condition: New
FOB Price:
Minimum Order Quantity:
Supply Ability: Ready Stock

Packaging & Delivery
Packaging Detail:
Delivery Detail: