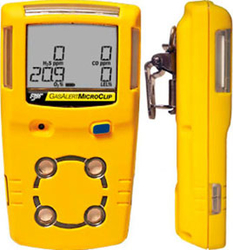 Gas Detectors are an integrated part of the safety protocol in the petroleum industry where gas leaks may have devastating impacts. The primary line of defense against gas leaks is the portable gas leak detectors which is mandatory for every personnel. These portable and easy to use gas detectors provides upto 3 years of maintenance free operation with no need for sensor replacement or charging. The gas detectors come with a IP66/67 rated conforming to European standards.
The gas detectors come in single gas detectors and multiple gas detectors versions which alerts workers of leakage of H2S [Hydrogen sulfide], CO [Carbon monoxide], SO2 [Sulfur dioxide] and O2 [Oxygen] NH3 [Ammonia], PH3 [Phospine],CL2 [Chlorine] ,CLO2 [Chlorine dioxide], NO [Nitric oxide] , NO2 [ Nitrogen dioxide] ,HCN [ Hydrogen cyanide],ETO [Ethylene oxide], O3 [ Ozone]
Adex International is an authorized distributor of BW Technologies with operation in Dubai, Sharjah, Ajman, Ras Al Khaimah, Abu Dhabi and Alain. ADEX INTERNATIONAL LLC primarily focus on export of BW Technologies gas detector to GCC countries like Saudi Arabia, Oman, Kuwait, Bahrain, Qatar and also African countries like Egypt, Lebanon, Sudan and Russian countries like Azerbaijan, Uzbekistan etc.
BW technologies is the premier brand for gas detectors and is used extensively all around the world in sensitive locations like oil rigs, oil terminal, army bases, treatment plants, chemical manufacturing facilities etc. BW is the preferred brand in gas detectors in the GCC with a market share of about 85%.
BW clip gas detector
BW clip single gas detector
BW GAS ALERT EXTREME SINGLE GAS DETECTOR
BW GAS ALERT MICROCLIP MULTI GAS DETECTOR
BW GAS ALERT QUATTRO MULTI GAS DECTECTORBW GAS ALERT MAX XT 2
BW GAS ALERT MICRO 5 SERIES
HONEYWELL GAS DETECTOR
BW TECHNOLOGIES GAS DETECTOR
BW TECHNOLOGIES INTELLIDOX AUTOMATIC INSTRUMENT MANAGEMENT SYSTEM
BW TECHNOLOGIES MICRODOCK 2
BW HONEYWELL GAS DETECTOR SUPPLIER UAE
BW GAS DETECTORS SUPPLIER IN UAE
BW TECHNOLOGIES GAS DETECTOR SUPPLIER IN UAE
BW GAS DETECTOR AUTHORISED DEALER UAE
BW TECHNOLOGIES GAS DETECTOR AUTHORISED SUPPLIER IN DUBAI
GAS DETECTOR SUPPLIER IN DUBAI
GAS LEAKAGE DETECTOR IN UAE
MULTI GAS DETECTOR SUPPLIER UAE
4 GAS DETECTOR SUPPLIER UAE
5 GAS DETECTOR SUPPLIER UAE
SINGLE GAS DETECTOR SUPPLIER UAE
SINGLE GAS DETECTOR WHOLESALE IN UAE
Details
Place of Origin:
Product Condition: New
FOB Price:
Minimum Order Quantity:
Supply Ability: Ready Stock

Packaging & Delivery
Packaging Detail:
Delivery Detail: