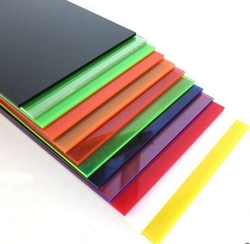 Adex International  is the premier Acrylic Supplier and Fabrication company in the UAE  with operations in Dubai, Sharjah ,Ajman, Abu Dhabi , Ras Al khaimah, Fujairah, Al Ain and Umm Al Quwain.
Acrylic is a polymer created with carbon molecules and is the most preferred choice as it resembles glass with superior features and have a transparency rate of 93% making it the clearest material known .. Acrylic is stronger than glass and has all the qualities like transparency ,clarity ,scratch resistant, anti-fogging, anti-glare and can be manufactured in any color desired ,and can be tinted, colored, mirrored or opaque finished. Acrylic is easier to work with than glass ,as it can be drilled or sawed off and weighs almost half. Acrylic has a clear tint no matter how thick the sheet is,as opposed to glass which has a green tint when it is thick.
Various items can be fabricated from acrylic namely  Signages, Shades, Skylights, Windows, Partitions, Showcases, Display Stands, Furniture, Sculptures, Wall hangings, POS Displays, Gifts, Stationary, Suggestion Boxes, Raffle Boxes, Kitchen cabinets etc.
CHARACTERISTICS
Weather Resistant
Acrylic plastic can be used all weather condition as it is resistant against temperature and humidity changes Transparency
Acrylic plastic is extremely transparent and transmits 92 percent of white light. This is equal to the transparency of the finest optical glass.
Impact Resistant
Acrylic sheets can withstand impacts upto 20 times than that of glass. Plexiglas when shattered , breaks into relatively dull pieces compared to the sharp shards  in case of glass.
Acrylic plastic is combustible and will self-ignite at approximately 860 degrees Fahrenheit. It will burn with an open flame at about 560 degrees Fahrenheit. It is a non-conductor of heat and electric current.
Acrylic transparent barriers are used in zoo enclosures as it gives the visitors a clear view of the animals without compromising their safety.  Curators of Zoos and wildlife parks particularly value Hydro sight Transparent Barriers because of their enormous break resistance, while Hydro sight Transparent Barriers maintain a perfectly clear view.
·         We undertake all kinds of customized fabrication jobs related to acrylic and polycarbonate. We provides innovative products, services and solutions for the acrylic fabrication Industry all over the UAE. We design and provide various acrylic products, such as 
·         Acrylic Furniture,
·         Kiosk Shelves,
·         Display Stands, and
·         Show Racks for Jewellery Shops,
·         Mobile Phone Stands,
·         Acrylic Boxes,
·         Acrylic Trays,
·         Acrylic Machine Covers,
·         Donation Box, Tissue Box,
·         Acrylic Table, Bar Counter,
·         Acrylic Podium,
·         Acrylic Shelf,
·         Acrylic Cupboard,
·         IPad Stand,
·         Acrylic Laptop Stand,
·         Acrylic Dome,
·         Acrylic 3D Letters
·         Price Stands,
·         Photo Frames,
·         Calendars
·         and other related products for commercial and industrial purposes.
Skylights, roof lights & domes
Illuminated features & dance floors
Interior displays

Point of Sale Displays
Architectural displays

Canopies, arches & barrel vaults
Shower screens & bath enclosures
Furniture & accessories

Sculptural & themed structures
Desktops, wall hangings & mementoes
Aquarium equipment

Picture frames
Details
Place of Origin:
Product Condition: New
FOB Price:
Minimum Order Quantity:
Supply Ability:

Packaging & Delivery
Packaging Detail:
Delivery Detail: